OEKO-TEX® Standard 100
1.What is OEKE-TEX® Standards 100?
OEKO-TEX Standard 100 was formulated by the OEKO-TEX International Environmental Textile Association in 1992. There are now 17 testing associations whose main task is to test harmful substances in textiles to determine the safety. OEKO-TEX Standard 100 is now the most widely used textile eco-mark in 60 countries. The OEKO-TEX Standard 100 stipulates a standard based on the latest scientific knowledge to set limits on the content of harmful substances in yarns, fibers and various textiles. Only manufacturers that provide provable quality guarantees in accordance with strict testing and inspection procedures are allowed to use the OEKO-TEX label on their products. The Oeko-Tex 100 standard textile and textile hazardous substance detection mark has become the world's leading ecological mark.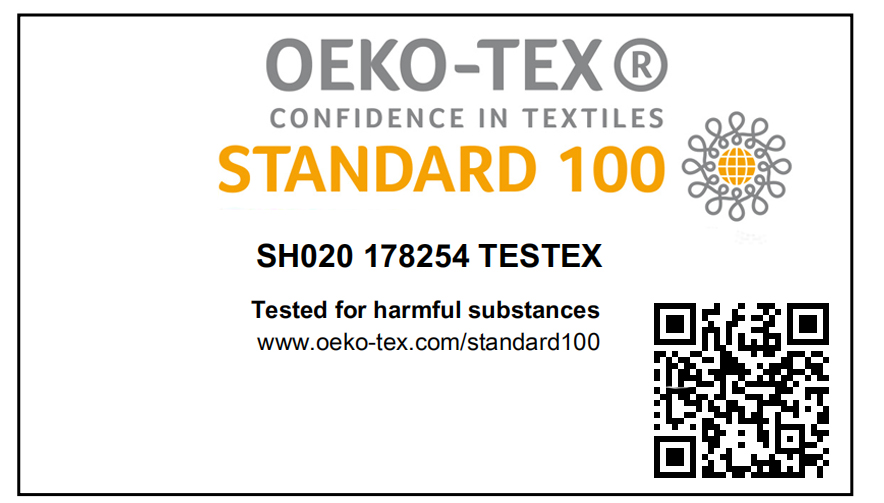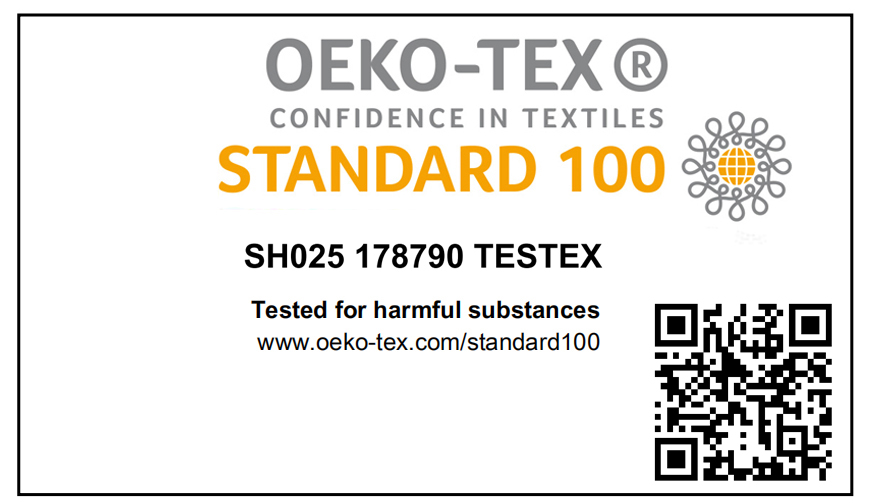 OEKO-TEX® products classes are divided based on their intended use:
CLASS I : Baby products
Except leather clothing, all fabrics, raw materials and accessories used to make infant and children's clothing.
CLASS II : Products that directly touch the skin
When wearing, most of the material directly touches the fabric of the skin. (Such as: tops, shirts, underwear, etc.)
CLASS III : Products that do not touch the skin
When wearing, only a small part directly touches the skin, and most of the fabrics do not touch the skin. (Such as: filling, lining, etc.)
CLASS IV : Decoration materials
All products and materials used to sew upholstery, such as tablecloths, wall coverings, furniture fabrics, curtains, upholstery fabrics, floor coverings, window mats, etc.
The standard stipulates very strict conditions for babies and toddlers products: for example, the limit value of formaldehyde is 20ppm, and the limit value of formaldehyde for products that directly contact the skin such as bedding, underwear, shirts and loose tops is 75ppm. Products that do not come into direct touch with the skin, such as outerwear (men's and women's suits, coats) and home decorations (tablecloths, decorative fabrics, curtains, furniture fabrics, mattresses), only need to contain less than 300ppm formaldehyde. For comparison, the formaldehyde content of an apple is at least 20ppm.
SNSILK has obtained Oeko-Tex Standard 100 Class I certification, which means the products made by SNSILK passed the highest test consists of over 100 strict test standards determined by 17 textile institutes. This means that -- from raw materials include raw silk fabric, threads, labels, elastic band, chain and all other accessories needed all are free from harmful chemicals, including toxins and irritants. The silk items you bring into your home from SNSILK are absolutely safe, natural, and healthy… even for a baby!
2. How to check the validity of the certificate?
You can check the validity of the STANDARD 100 by OEKO-TEX® label. Just copy the label number ( SH020 178254 / SH025 178790 ) and enter them into the Label Check link: https://www.oeko-tex.com/en/label-check.
Please note one OEKO-TEX certificate only can include one product category, for example clothing can include pajamas, robe, scarf, sleep mask, sleep bonnet and etc, but it certainly can't include bedding, when you need to find a matched supplier with OEKO, please check if the OEKO certificate includes the products you need.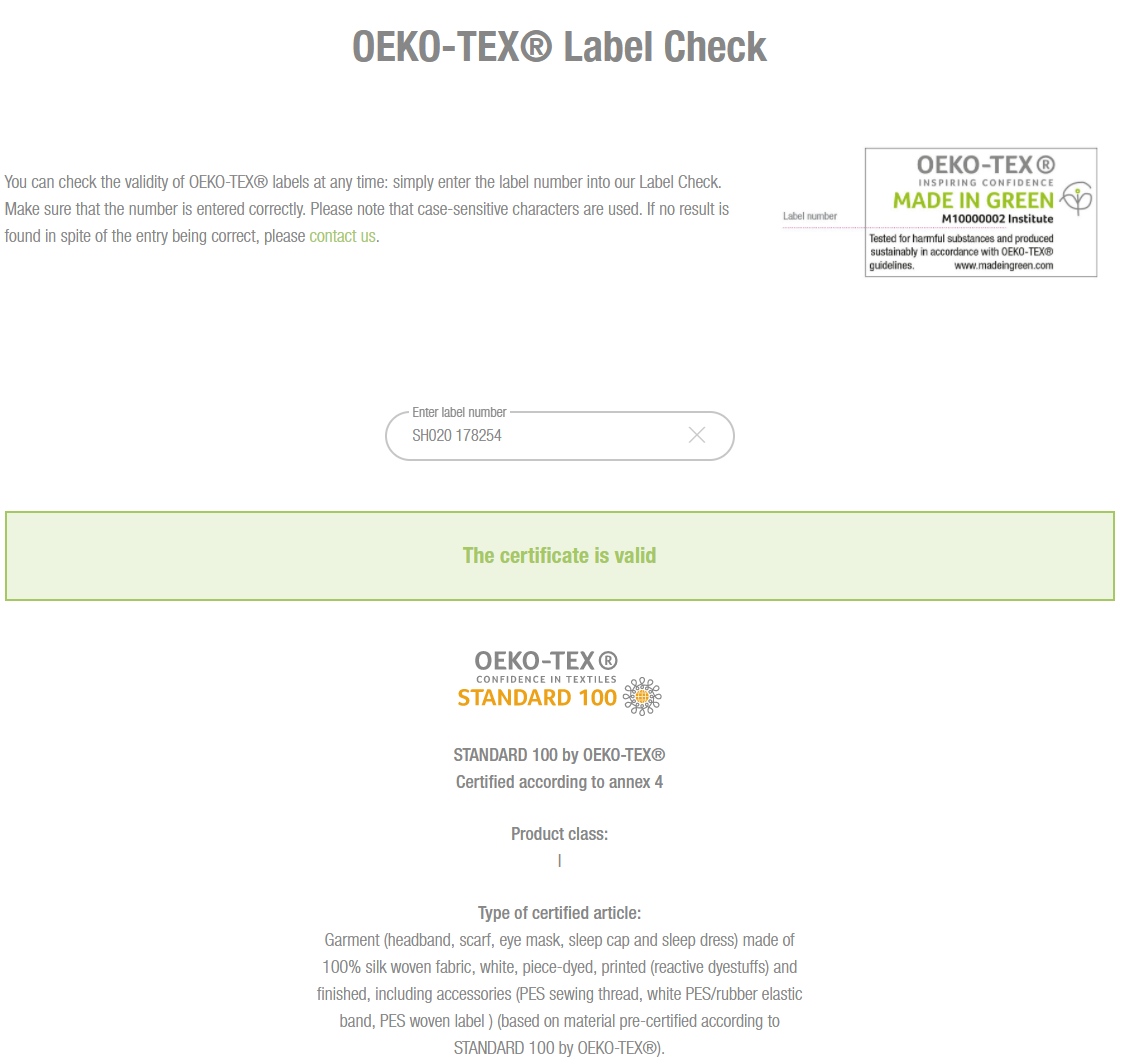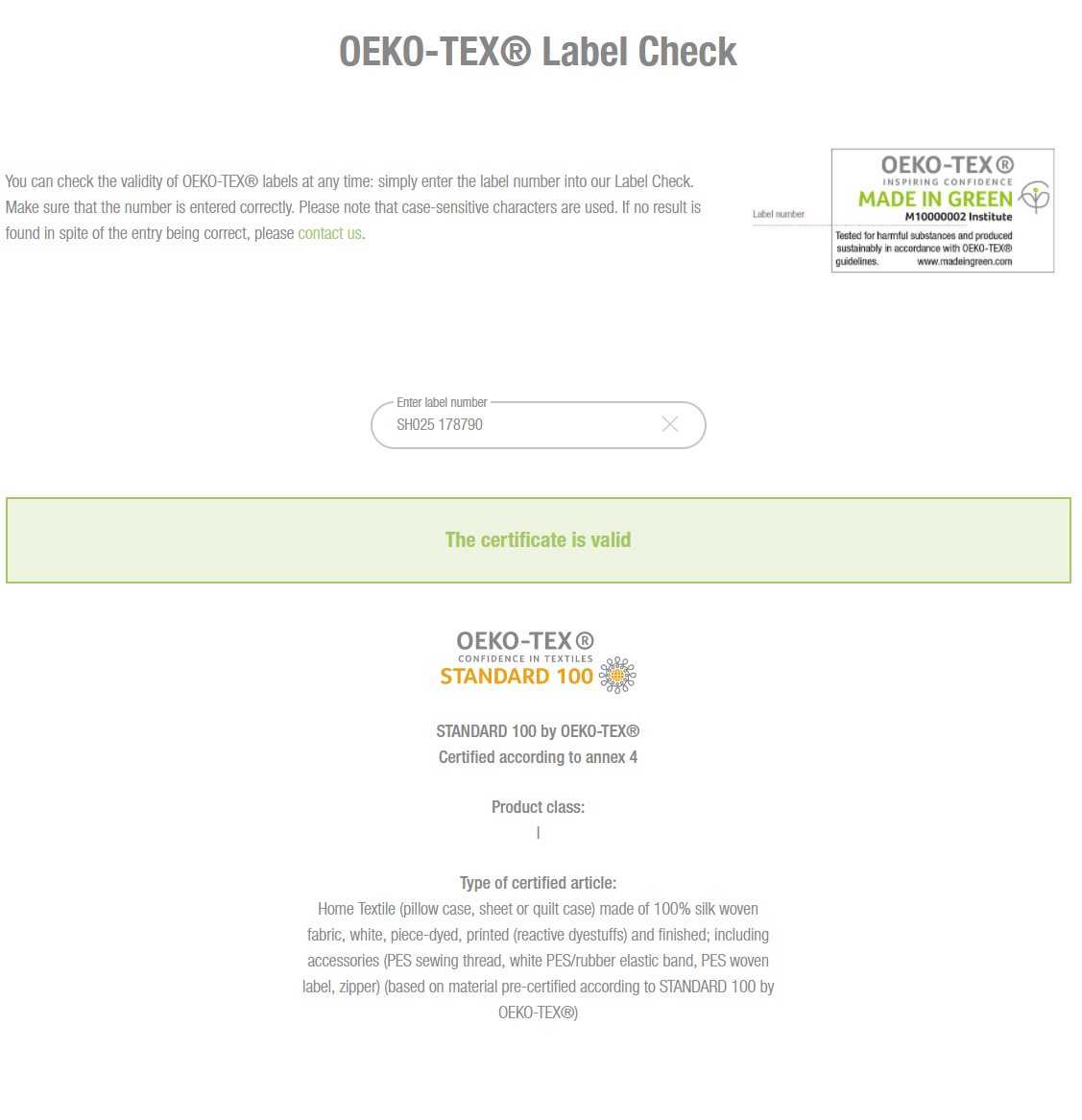 HowSNSILK Products Get Oeko-Tex® Standard 100 Certified

The process for SNSILK' pure silk fabric to be Oeko-Tex® Standard 100 Certified is quite rigorous ,complicated and must be renewed on an annual basis. Every year SNSILK submits a preliminary application inquiry to the OEKO-TEX certification institute, then we receive a copy of the application materials provided by the issuing authority, including the application form, quality compliance statement, and quality system report. SNSILK only need to truthfully declare the processing information of the product (including raw materials, auxiliary materials, dyeing and chemical materials, various processing procedures and product control measures, etc.) according to the questions on the application form, and then the OEKO-TEX institute will verify the relevant information and classify products , and a "sample order" will be received to prepare test silk samples.
Next, an independent Oeko-Tex® lab tests the silk according to protocol and documents,and they will send a professional inspectors to have a on-site audit in our factory. Certificates will be given only all the test passed.